The Buddy Program
For nearly 24 years, the Buddy Program pairs first-year medical students with people living with early-stage dementia for a mutually-enriching experience over the course of an academic year. The program provides a mentorship opportunity and social engagement for persons with Alzheimer's dementia and other forms of cognitive impairment. Additionally, the program offers an opportunity for both the person with dementia and family to share their experiences with the illness, while giving medical students the opportunity to get to know someone with dementia outside of the clinical setting.
The Buddy Program is also open to pre- and post-doctoral students conducting lab research who may not have the chance to meet a person for which their research may one day benefit.
Stories
Learn more from recent stories on the Buddy Program.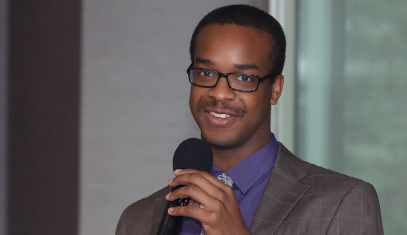 Creating a Buddy Community Across the Country
The Buddy Program developed by Darby Morhardt, PhD, LCSW, started in 1997 and has since been replicated by 15 universities nationwide.Read more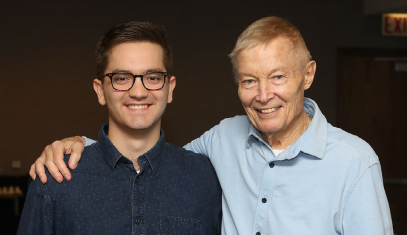 My Mentor's Impact on My Future as a Physician
Alexandru Buhimschi joined the Buddy Program for the opportunity to develop a longitudinal friendship with someone dealing with illness. 
Read his story
History of the Buddy Program
In 1997, the Buddy Program was developed on the premise that, despite a dementia diagnosis, people can still maintain a meaningful quality of life. The idea for the program came from the experience of a retired Northwestern physician who was diagnosed with Alzheimer's disease, and the disappointment he shared that he was no longer using his experience and knowledge in a meaningful way. Although he was forced to abandon his life's work as a result of his cognitive decline, this physician was still able to impart valuable medical information and mentor, for a time, an interested medical student. The Buddy Program was then developed and piloted to provide first-year medical students the experience of getting to know a person living with dementia the opportunity to learn from them.
In addition to conducting research and treating the clinical characteristics of neurodegenerative diseases, the Mesulam Center has always placed a strong emphasis on the quality of life for diagnosed individuals and their families. Over the years, the center has developed and enhanced early-stage programming to help families learn about and cope with the diagnosis, combat the common stigmas of dementia and investigate the potential benefits of non-pharmacological interventions.
For more information, please contact Darby Morhardt.
Videos
The Glen and Wendy Miller Family
The program above is made possible by the generosity of the Miller family. Through their $1.25 million commitment, Glen and Wendy Miller and their daughter Lauren Izaks support the education and support programs for individuals and families living with neurocognitive disease, particularly the Buddy Program, which they have supported since 2008. In addition, their gift has helped establish the Miller Social Work Fellowship Program.