Care, Support & Treatment for Alzheimer's Disease Dementia
While there are no cures for Alzheimer's disease dementia, there are medications that may slow the memory or thinking changes. 
Treatment (Medications)
Cholinesterase Inhibitors
The best-known treatment is a class of medications called cholinesterase inhibitors. Donepezil (Aricept), Rivastigmine (Exelon) and Galantamine (Razydyne) are examples of cholinesterase inhibitors. These medications increase the level of a neurotransmitter in the brain, acetylcholine, which is important for attention and memory. Common side effects with cholinesterase inhibitors include nausea, diarrhea and dizziness. 
Aducanumab
In June 2021, the FDA approved the first new drug in 18 years to treat Alzheimer's disease. The drug, called aducanumab, and marketed as Aduhelm by Biogen, removes amyloid from the brain. To be eligible for Aduhelm, individuals must have progressive weakness of memory or thinking that is mild, as determined by quantitative testing. Secondly, they must undergo a spinal tap or PET scan to show that they have amyloid in the brain. At Northwestern Medicine, Aduhelm is not available as of September 2021, due to unknown Medicare and health insurance coverage. 
Other Medications
Another medication that is commonly used in combination with a cholinesterase inhibitor is called memantine (Namenda). The main benefit of this medication is to help slow the rate of functional decline associated with Alzheimer's disease dementia. Its more common side effects can include constipation and some fatigue. 
Often, mood and behavioral changes can be seen in Alzheimer's disease dementia. In these cases, medications can be prescribed to control symptoms. They do not cure the disease but can provide relief for affected individuals and their caregivers. Antidepressants can be given to treat depression, anxiety or irritability. Low doses of antipsychotics may also be considered to help address delusional thinking (believing things that have no real foundation) or aggression. 
Clinical Trials
There are ongoing clinical trials to study whether experimental treatments designed for Alzheimer's disease are helpful for those with Alzheimer's disease dementia with Alzheimer's disease suspected as a cause. If you are interested in clinical trials, you are encouraged to discuss whether enrollment is appropriate or feasible with your physician or a specialist. You can also find additional information regarding clinical trials on our website or at www.clinicaltrials.gov. 
Non-Pharmacological Treatment (Non-Drug Interventions)
Importantly, there are a number of lifestyle changes that have been shown to help individuals with Alzheimer's disease dementia. These include a Mediterranean-style diet, physical exercise, social engagement, adequate sleep, and alcohol in moderation. 
Care
---
The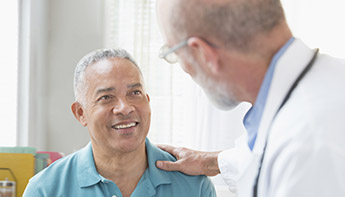 Neurobehavior and Memory Clinic at Northwestern Medicine is affiliated with our center and offers clinical consultations to patients, families and providers, including diagnostic evaluations, second opinions and supportive services.
Visit the Clinic Website
---
Support
The Mesulam Center suggests these resources to navigating a dementia diagnosis.
Alzheimer's Assocation
The Alzheimer's Association provides many resources for support families after an Alzheimer's diagnosis.
Alzheimer's Association
Younger-Onset Support
We offer monthly support groups for family members and care partners of people living with younger-onset dementia. 
Support Groups