Care, Support & Treatment of Mild Cognitive Impairment
Mild cognitive impairment (MCI) refers to a condition in which there is a decline in one's cognitive abilities (memory, language and/or reasoning) but not to the extent that it affects routine activities, like banking, driving, managing medication and taking care of usual responsibilities.
MCI is distinguished from dementia, a condition in which cognitive decline is significant enough to affect the ability to carry out usual daily functions. MCI can be a sign of progression to a state of dementia and is known as a "risk factor" for dementia. This is especially true when MCI is caused by Alzheimer's disease neuropathologic changes in the brain. There are other causes of MCI, however, that do not lead to progressive cognitive decline.  
Treatment (Medications)
There is no specific medication for mild cognitive impairment at this time. The medications available to Alzheimer's disease have been used in some studies, but are not always recommended for MCI. 
In June 2021, the FDA approved the first new drug in 18 years to treat Alzheimer's disease. The drug, called aducanumab, and marketed as Aduhelm by Biogen, removes amyloid from the brain. To be eligible for Aduhelm, individuals must have progressive weakness of memory or thinking that is mild, as determined by quantitative testing. Secondly, they must undergo a spinal tap or PET scan to show that they have amyloid in the brain. At Northwestern Medicine, Aduhelm is not available as of September 2021, due to unknown Medicare and health insurance coverage.   
here are ongoing clinical trials to study whether experimental treatments designed for Alzheimer's disease are helpful for those with MCI who have AD as a cause. If you are interested in clinical trials, you are encouraged to discuss whether enrollment is appropriate or feasible with your physician or a specialist. You can also find additional information regarding clinical trials on our website or at  www.clinicaltrials.gov.  
Non-Pharmacological Treatment (Non-Drug Interventions)
Importantly, there are a number of lifestyle modifications that have been shown to help individuals with MCI. These include: 
Stay active: Keep up with interests. Make modifications when possible to accommodate for short-term memory or other changes. 
Eat right. Your brain needs proper food and liquid to function normally. 
Exercise. There is a lot of evidence that aerobic exercise slows cognitive decline. 
Maintain sleep hygiene and address problems if they exist. 
Talk with others about your concerns. Let close friends and family know what you are going through so that you may gain their support.   
Family and friends should consider how the changes caused by MCI are affecting the person's life. Encourage this person to stay active and find strategies for coping. Keep in mind that the memory loss and other changes are caused by the MCI and cannot be controlled by the person.  
---
Care
The Neurobehavior and Memory Clinic at Northwestern Medicine is affiliated with our center and offers clinical consultations to patients, families and providers, including diagnostic evaluations, second opinions and supportive services.
Visit the Clinic Website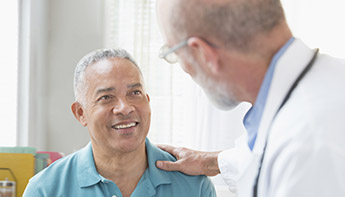 ---
Support
Symptoms of mild cognitive impairment are often frustrating causing some persons to withdraw from social activities. To help cope with the changes caused by MCI, finding support is very important.  
Our center offers Younger-Onset Caregiver Support Group is for care partners of those younger than 65 who have been diagnosed with any type of dementia.
Learn more about Support Groups