Director's Message
"The mission of our center is to elucidate the biology of neurodegenerative diseases that impair behavior and cognition, to clarify the neural organization of these functions in the human brain and to offer our patients and their families personalized care that addresses the symptoms as well as the underlying disease."
M Marsel Mesulam, MD
Director, Mesulam Center for Cognitive Neurology and Alzheimer's Disease
Ruth Dunbar Davee Professor of Neuroscience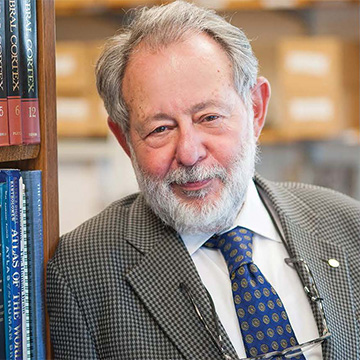 Welcome to the website for the Mesulam Center for Cognitive Neurology and Alzheimer's Disease.
The mission of our center is to elucidate the biology of neurodegenerative diseases that impair behavior and cognition, to clarify the neural organization of these functions in the human brain and to offer our patients and their families personalized care that addresses the symptoms as well as the underlying disease. We pursue this mission in a multidisciplinary setting that integrates patient care, training and research. This website provides a gateway to our clinical programs, educational tools, patient services, training opportunities, research projects, pilot grant offerings and the listing of resources that can be requested for collaborative investigations. The website was designed by center staff and faculty. I hope you will find it informative and that you will also feel free to contact us if you require additional information.
Who We Are
The Mesulam Center is a multidepartmental freestanding component of the Feinberg School of Medicine. We serve patients with neurological diseases that interfere with cognition and behavior. Areas of research include healthy brain aging, memory impairment, Alzheimer's disease, frontotemporal degeneration, primary progressive aphasia and related dementias.
Our center represents more than 50 core and affiliated faculty members from 14 departments in the Chicago and Evanston campuses of Northwestern University.
Principal components include:
Primary progressive aphasia research programs
SuperAging research program
Alzheimer's Disease Center (P30) of the National Institute of Aging
Alzheimer's Disease Assistance Center of the State of Illinois
Intramural educational programs
Accredited training programs in behavioral neurology, neuropsychiatry, neuropsychology, neuroscience and social work
The Alzheimer's Disease Center (P30) conducts and promotes research in a broad spectrum of neurodegenerative diseases. Its clinical core provides a registry of characterized patients for clinical trials, biomarker development, imaging, genetics and neurocognitive research. The neuropathology core acquires and distributes tissue and biofluids for research on the cellular and molecular biology of Alzheimer's disease and frontotemporal lobar degenerations. It also offers brain bank services for the movement disorders and amyotrophic lateral sclerosis programs at the Feinberg School of Medicine so as to integrate research on multiple forms of neurodegenerative diseases. The education core develops education and outreach programs for patients and families. The data and biostatistics core supports quantitative analyses and data base management for local and national collaborative projects. The imaging core provides standardized multimodal structural and molecular imaging for biomarker and clinicopathologic research projects. Patient, imaging and tissue resources are available for collaborative research and can be requested online.
Our Neurobehavior and Memory Clinic brings together neurologists, psychiatrists, neuropsychologists, geriatricians, speech therapists and social workers in a seamless program that addresses diagnostic questions and treatment plans from multiple perspectives. It also provides the clinical setting for accredited training programs listed above.
One area of national prominence revolves around the syndrome of primary progressive aphasia, a condition that affects word usage rather than memory function. Our primary progressive aphasia program integrates patient care and research through federally funded magnet projects that attract participants from throughout the United States. Primary progressive aphasia provides a model for investigating the principles of selective vulnerability in neurodegenerative diseases, the heterogeneity of dementias and the biological organization of the language network in the human brain.
The Cognitive Brain Mapping Group, affiliated with the Cognitive Neuroscience Program and the Center for Translational Imaging, provides a coalition of independent research laboratories in the Chicago and Evanston campuses of Northwestern University. We collaborate on multiple projects focused on the functional imaging of cognition and behavior.
Our clinical space is located on the 9th floor of the Arkes Pavilion. Administrative headquarters are located on Tarry 8, where clinicians and investigators in multiple disciplines have contiguous offices and laboratories. The proximity of bench space, brain bank, cognitive laboratories and neuroimaging analysis suites promotes translational thinking and training. Our approach is patient-based. A primary goal is to design personalized interventions that address the symptoms as well as the underlying medical disease. At the laboratory bench, the linkage between symptom and disease guides investigations on the neurobiology of neurodegenerative disorders. Similarly, the relationship of symptoms to the anatomy of neurodegeneration guides our work on the organization of behavior and cognition in the human brain.