Living with PPA: One Couple's Experience
Ken Stevenson estimates that there are six other people in the city of Calgary, Canada living with primary progressive aphasia (PPA). He is the care partner for his wife, Barbara, who was diagnosed with PPA two years ago, an atypical dementia syndrome that affects a person's language.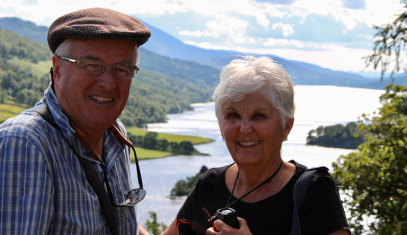 It took some time to get the diagnosis as the couple saw a number of doctors, but when they finally landed on PPA, Ken and Barbara started looking for support. With such a rare diagnosis, the couple was relieved to find connection at the Mesulam Center — world-renowned for care and research in PPA.
Barbara became a participant in the Communication Bridge study, which is the largest telehealth speech therapy clinical trial. The online program includes 15 video chat therapy sessions with a certified speech-language pathologist and access to a custom web application to support the intervention. Participants can conduct all sessions from the comfort of their own homes.
Through her year in Communication Bridge, Barbara worked on pronunciation of words and phrases she often used. Her weekly sessions with a speech language pathologist also helped to improve Barbara's confidence and connect her with people who were understanding about all that a PPA diagnosis entails. One word to describe her time in Communication Bridge, "Kindness." The staff provided support to both Barbara and Ken throughout their participation in the study and beyond.
In addition to getting involved in Communication Bridge, the couple found support through the center's PPA Conference hosted in March 2021 and also joined the PPA Connections program, which matches individuals from across the country with other persons living with PPA. They joined the online conference with their daughter and found it very encouraging to hear the stories of individuals from around the US managing PPA. 
The couple enjoys their close proximity to the Canadian Rockies and spends time skiing in the winter and hiking in the summer.
Communication Bridge is in its fourth year of its NIA-funded clinical trial (NCT03371706) and the initial project was established by Emily Rogalski, PhD, more than eight years ago. As technology becomes essential in medical care, programs like Communication Bridge have the potential to become the norm rather than the exception. Access to care is critical, and Communication Bridge shows that even without a cure, there is still hope after diagnosis.