Meet Larry:
Mesulam Center Research Participant
By Chloe Hilles
If it weren't for the Hampden Times of Northwest Indiana, Larry Seiger likely wouldn't have been a research participant at the Mesulam Center. Nine years ago, an article in the Times about the Mesulam Center prompted Seiger to join the SuperAging study.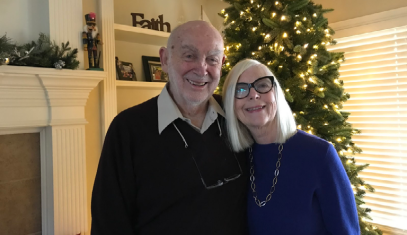 "I figured I could participate in research studies," Seiger said. "And I'm willing to share my experience now to bring others into research participation as well." 
In Indiana, Seiger works part-time at a hospital as a patient companion, so he said he knows the effects of Alzheimer's disease quite well. His hope is that by participating in research at the Mesulam Center, he is contributing to a better understanding of cognitive change. Currently, Seiger participates in the study on SuperAging and has agreed to brain donation. 
For Seiger, being a SuperAger helps him know that he is aging, without feeling old, the 88 year old said. It also means he can be there for his wife and his dog, who he walks with regularly to maintain physical and brain health. 
"I like challenges, I do puzzles and sudoku. So this is like a challenge for me, to remember everything I am told in my check ups," Seiger said. 
Without the benefits of research, Seiger would likely have vision problems today. Twelve years ago, Seiger was diagnosed with macular degeneration, but because of research in the field, doctors were able to treat his sight challenges. 
"Anything to help others, I will do," Seiger said. "I am thrilled to be where I am in my health, and I hope to be here for a long, long time."